Last Minute Valentine's Day Gift Guide for 2021
Hello lovely people,
I'll start by saying that I didn't mean this to be a last minute Valentine's Day gift guide post, but I ended up being last minute in writing this! So I thought some of you out there like me leaving things too late might like a little help. Even with plenty of notice it's hard enough to think up gift ideas! So I thought I'd help you out. I don't know about you, but buying gifts for guys is always hard. It's never an easy task, so I thought I'd share some of my suggestions with you. Plus sometimes we all just want to use it as an excuse to treat ourselves right? Even if we aren't in a relationship, why not browse my suggestions and see if there's something you might like as a treat for yourself! Let's begin:
Digital Prints
Now you may have seen that I actually have my own Etsy store selling digital prints (see my post about it here!). Digital prints are a great shout if you're in need of a quick idea and haven't had the time to shop around. It's literally as simple as buying the digital print, downloading the files and then printing them out. The benefit is that you don't have to wait for the item to be shipped out to you, it's about the most instant gift idea I can think of!
Here are a few suggestions that might be of interest. Obviously there are thousands of print designs all over Etsy, so have a browse and search based on your partner's interests.
This is one of my favourite prints… I think it would be an ideal funny gift for someone who loves a good box set. It's super minimalistic and stylish and I think would be a lovely last minute Valentine's Day present (that doesn't seem last minute!).
Line art is everywhere at the moment! That's  why I thought I'd include this lovely Audrey Hepburn line drawing print. It's so simplistic and classy… I could imagine this in my bedroom or office. It would certainly make an ideal Valentine's Day gift for any Audrey fan or a lover of classic movies (which is surely everyone?).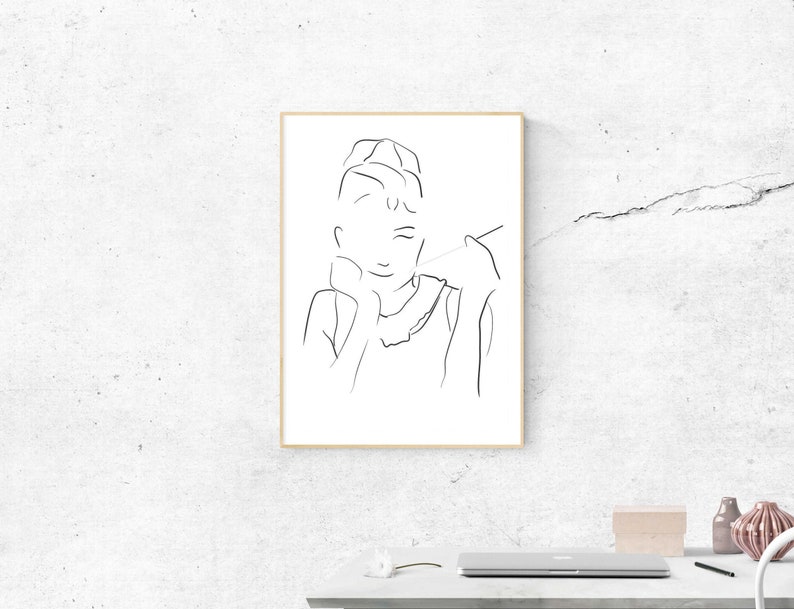 Experience Vouchers
With us now enduring our third lockdown, this year certainly calls for putting things in the diary. When things are a bit safer and COVID is not about as much, I'm sure we'd all love some trips out. This brings me to my second Valentine's Day gift idea. Experience/day out vouchers can be a great option if you've run out of time to get a present! You could either completely treat he/she with a pamper style experience, or you could take the opportunity to be romantic and plan for a meal out for two. There are lots of different options, and it certainly would be something to look forward to for this year!
My brother once gave me a makeup shoot experience for my birthday and it was really good fun. It's something you can look back on and remember. What might your partner enjoy doing?
Find Me A Gift do a great couples package for £45 with hundreds of activities you can choose from. What's better is that you can have an e-voucher emailed to you in 15 minutes… so no delays their end!
You could also look at gift vouchers for a favourite store or brand. These are a nice idea for when you don't have many ideas!
Next Day Delivery…
…and of course there is always the joy of next day delivery. Normally my biggest hate is paying for delivery, but sometimes it is necessary. So if you have really forgotten about Valentine's Day until now, then quickly spend that bit extra on delivery and get browsing while you have the chance!
Amazon Prime normally has a good range of last minute deals, and basically every big retailer will have next day delivery.
I've picked out some things that caught my eye which apparently offer next day (that I might even treat myself to…).
You can't really go wrong with Pixi. I use it so much myself, so I'm sure your partner would be pleased to get this gift! ASOS promise that you'll get your delivery on 14th (even if it is by 10pm) if you order now with next day delivery, so be quick if you like the look of this.
Another one from ASOS, this one might be a nice little set for your boyfriend. It's a good price and includes shave gel, a Truman razor, cartridges and a precision trimmer – sounds good to me! I love the bright orange colour, it's nice and eye catching. I'd definitely add this to my favourites list for any guy friends.
Made with Love
Lastly, I couldn't finish without including a handmade gift idea. This wins top marks in anyone's books because it shows a lot of thought and care (even if you ran out of time for anything else). What better for Valentine's Day?
Some ideas off the top of my head are:
Rehurse a song to sing/play
Write a poem (cheesy but classic)
Origami
Art (even if you're not great at it)
Cook his/her favourite meal or bake something
Create a photo/memories book
I'm sure there must be lots of other ideas that spring to mind that your partner would enjoy! Those are just a few to get your inspiration going.
I really do hope this has been helpful. I definitely left this post very late! I'll try and be more organised next time… Either way, Valentine's Day shouldn't really be based on what you get each other, it's about the little things we do for each other every day that count. This might just help you in the short term though when your partner is looking with anticipation!
Have a lovely day on Sunday whatever you decide to do. Try not to let lockdown spoil your day, there are lots of fun things to do within the restrictions.
Thanks so much for joining.
Until next time,
Jessica